Sunita made me aware of a 1978 article by John G Cawelti, author of Adventure, Mystery and Romance: Formula Stories as Art and Popular Culture (1976). In it, Cawelti states that "the romance tradition originated in the 18th century with writers like Samuel Richardson" (104) and thus
Contemporary portrayers of the tender passions can trace their craft back in an unbroken line to at least the middle of the 18th century. By contrast, the Western did not begin until James Fenimore Cooper's first "Leatherstocking" novel in 1823, while there was nothing that could really be called a detective story until Edgar Allen Poe's Dupin tales of the 1840s. Science-fiction enthusiasts claim an ancestry going back to ancient times, but the earliest fantasy with most of the characteristics of modern SF was Mary Shelley's Frankenstein of 1818. The spy thriller is of even more recent origin, emerging around World War I. (103)
He adds that "Jane Austen's Pride and Prejudice [...] (1813) is one of the archetypal models for romance fiction" (106) and to illustrate his point (literally) there's this:

Even in the original the pictures are fairly small and not very clear but they do enable a reader to see how, in the 1970s, the cover art for at least one edition of Pride and Prejudice could, as Cawelti says, be taken as an indication that it and the Harlequin romance "spring from a common romance tradition."
[Edited to add: I haven't been able to work out when that edition of Pride and Prejudice was published. Has anyone seen it before? ]
[Edited to add some more: Since Cartland's been mentioned in the comments, here's the cover chosen for her "Library of Love" reprint (I think from 1977) of E. M. Hull's The Sheik (originally published in 1919).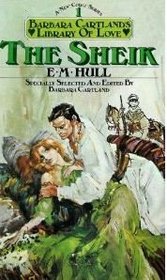 -----
Cawelti, John. "Romance: The Once and Future Queen." The Wilson Quarterly 2.3 (1978): 102-109.