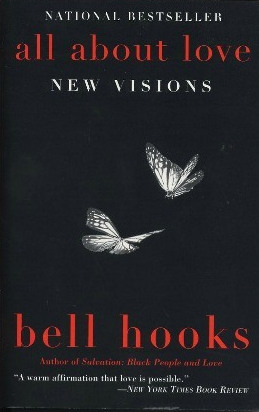 A snippet from bell hooks' All About Love: New Visions (2000):
My work as a cultural critic offered me a constant opportunity to pay close attention to everything the mass media, particularly movies and magazines, tell us about love. Mostly they tell us that everyone wants love but that we remain totally confused about the practice of love in everyday life. In popular culture love is always the stuff of fantasy. Maybe this is why men have done most of the theorizing about love. Fantasy has primarily been their domain, both in the sphere of cultural production and in everyday life. Male fantasy is seen as something that can create reality, whereas female fantasy is regarded as pure escape. Hence, the romance novel remains the only domain in which women speak of love with any degree of authority. However, when men appropriate the romance genre their work is far more rewarded than is the writing of women. A book like The Bridges of Madison County is the supreme example. Had a woman penned this sentimental, shallow story of love (which did, though, have its moments) it is unlikely it would ever have become such a major mainstream success, crossing all boundaries of genre. (xxiii, emphasis added)
The 2001 Harper Perennial edition of hooks' book has "National Bestseller" on the title, so perhaps hooks has herself become a woman speaking of love with a degree of authority? I'm not sure exactly what she means by "male fantasy" here, or how it "is seen as something that can create reality" but I thought I'd share her thoughts about romance novels.