magical realism provides a perfect means for children to explore the world through their imaginations without losing a connection to what they recognize as the 'real world'. (Bowers 100)

It can be quite helpful for, and popular with, adults, too. So, with a bit of help from Diana Wynne Jones's The Dark Lord of Derkholm, let me tell you a story:
Once upon a time, in a land not so very far away, there was heather and tartan, plenty of ancient castles and a loch inhabited by a very strange monster. The inhabitants lived on a diet of oatcakes, shortbread and haggis and the water of life flowed plentifully. From below its seas could be extracted a substance which, although
it doesn't endure very long in the world it goes to [...] does marvels while it does last, of course. [...] they [...] use it to run all their machines, but they have to keep getting more" (438).
Despite it's usefulness, however, there were those who insisted it was not worth much: "It's just earth" (438). And all was not well in the land, for fear stalked the kingdom.
Admittedly those spreading the frightening rumours were not able to order that Edinburgh castle be transformed into a "Dark Lord's Citadel [...] with a labyrinthine interior lit by baleful fires" (Jones 47) but they could warn all the inhabitants that if they made the wrong choices, the "forces of darkness" would gather strength, with "cataclysmic" consequences (Scotsman). They couldn't insist that "one of your gods must manifest at least once to every party" (Jones 48) of tourists: instead they rustled up a wide range of celebrities (and some heads of state).
A rather motley band, including some griffin-like creatures who flew overhead, spreading their wings over Scotland, remained undaunted even when told that if they persisted they might be "fined [...] a sum not exceeding one hundred gold coins" (Jones 49) or, rather, £2.7 billion.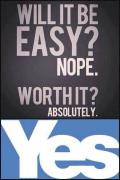 Did they all live happily ever after? I don't know. Maybe they'll ask
"[...] to be able to rule their own affairs. [...] We give the wizard Querida the task of making this world into its own place."

"But," Querida whispered, "won't that take ages?" [...]

"At least another forty years [...] And, as the Oracles warned you, [...] it will not be easy. Slaves have to learn freedom [...]." (Jones 504)
----
Bowers, Maggie Ann. Magic(al) Realism. 2004. Abingdon, Oxon: Routledge, 2005.
Jones, Diana Wynne. The Dark Lord of Derkholm. 1998. London: Harper Collins, 2013.
Yessie (a relative of Nessie) was created by Stewart Bremner and prints of the poster are available for purchase. The lion with wings is the logo of "Wings Over Scotland." I don't know who created the "Will it be easy? Nope. Worth it? Absolutely" poster.